The science of smart polymer
All Shape Memory Medical treatment solutions feature our smart polymer technology.
The sponge-like design of shape memory polymer products use a high surface area porous design that expands and conforms to effectively fill and occlude. The polymer activates the natural healing process, leading to cellular growth as the polymer degrades, without chronic inflammation.*
*Evidence from pre-clinical studies
Porous Matrix
Proprietary, low density, highly porous polyurethane foam.
Shape Memory
Crimped for low profile delivery, expands upon exposure to heat and moisture.
Stable Clot Formation
Small interconnected clots rapidly form throughout the porous matrix design.
Activates Healing Process
Forms healthy, new cellular growth as the material is absorbed.
Activates Healing Process
Collagen infiltration from the surface inward.
Soft and Compliant
Expands and conforms to the anatomy with minimal radial force.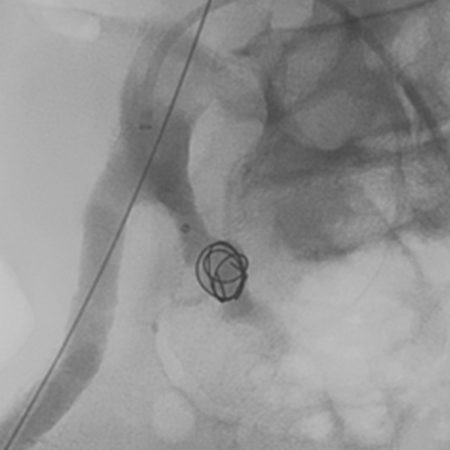 Radiolucent, Minimal Artifact
Facilitates visibility during and after the procedure.
AAA-SHAPE is a prospective, multicenter trial to determine the safety and efficacy of the IMPEDE-FX Embolization Plug and/or IMPEDE-FX Rapid Fill to fill an abdominal aortic aneurysm (AAA) sac outside of an endovascular aneurysm repair (EVAR) stent graft. We continue to evaluate the potential of this novel application in future aortic therapies.
Our portfolio of embolic plugs and coils all have smart polymer in common. Whether your case calls for high volume filling with the IMPEDE Embolization Plug family, or for selective embolization with the microcatheter-compatible TrelliX Embolic Coil, you can achieve a stable occlusion with less metal, less radial force, and less imaging artifact.
Constructed primarily of our smart polymer, the TrelliX Embolic Coil offers greater volume filling with less metal compared to traditional neurovascular coils. The radiolucent smart polymer restores unprecedented visibility within the target lesion and of surrounding anatomy, improving confidence in peri and post-operative imaging.